The Library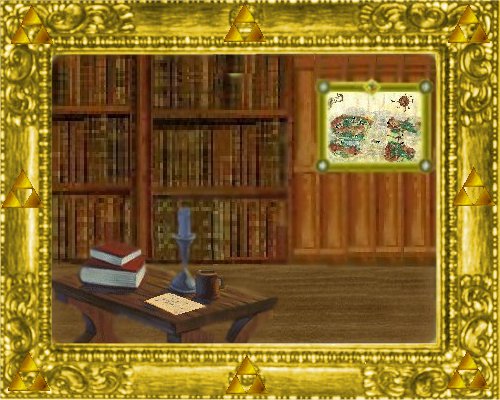 | | | |
| --- | --- | --- |
| | You find yourself in North Castle's well-stocked Library. You are amazed by the shelves and shelves of books. There are tales galore and you could spend hours in here. One corner catches your eye, where a particulary detailed map hangs inside a gilt frame. Nearby on a wooden table is a book. You pick it up and take a closer look. Its title proclaims 'An Illustrated Guide to the History of Hyrule'. There's an interesting looking piece of parchment on the table too. What will you do? | |





Go back To the Great Hall | Read the History Book | Take a closer look at the Map

Examine the Parchment | Read a Story | Examine the Archives





This is an UNOFFICIAL site and is in no way supported by Nintendo. The Legend of Zelda™, Link, Princess Zelda, Ganon and other related characters belong to Nintendo. The images and information on these pages are purely for entertainment value only. All artwork was created by Juliet A. Singleton, and may not be reproduced, with the artist's permission.

This page was created by Juliet A. Singleton © 1998-2008. All rights reserved.