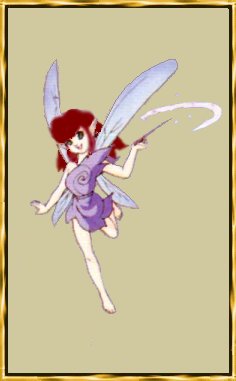 The Faeries
The Faeries were created along with the Humans and the Hylians, as the Goddesses last creations. These creatures are in fact, tiny likenesses to people, and stand at the most, six inches high. They have the delicate features and pointed ears of the Hylians, and have delicate, fly-like wings. Though usually slight and lithe in form, it is possible for faeries to be all shapes and sizes. However, they mostly tend to be beautiful creatures.
They were made by the Goddesses to protect the flora and fauna of Hyrule, and indeed, to this day, you will find most faeries living in the forests, or near springs or pools. It is said the true heart of the faerie realm is in the Ruto Forest, in West Hyrule, but they have since dispersed all around Hyrule, and beyond. These days, faeries are rarely seen, and although they seem to have a definate preference for the Hylian people, they are still wary and tend to keep to themselves. Indeed, after being thought of as simply objects of amusement by many people, because of their small size, there are now far fewer in number. It is thought that there is only one faerie between every twenty-five people.
All faeries are magically apt, and can do many powerful spells, as well as being blessed with healing skills, which they will often bestow upon a weary traveller, due to their generous nature. This generosity extends to wish-granting. According to legend, a beautiful wish-granting faerie lives in 'The Waterfall of Wishing'. They are quick learners, and most also know the ancient Hylian language. Most faeries will pick a particular subject to specialise in - rocks or herbs, for example. They love anything of beauty and enjoy celebrating most of all - Midsummer Night is a common time to see faeries together, often in forests.